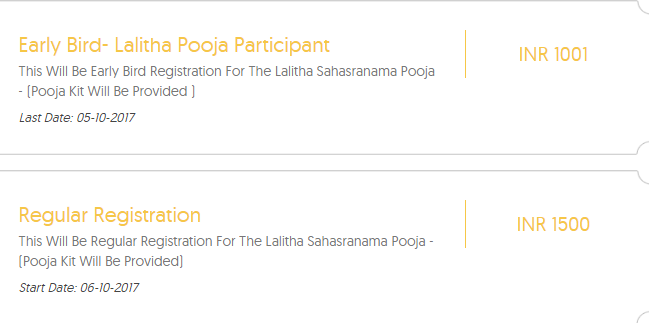 About The Event
Sree Maathre Namaha (Lalitha Sahasranamam)
Chief Guest: Padma Bhushan Dr. S P Balasubramanyam
Composer: Radha Gopee
Description:
Sarathee Medias debuts with it's new album delivering Insightful, highly crafted and complex tunes with soothing vocals that are somehow more whimsical than sultry!
Sarathee Medias got a new awakening (Manañ) for the Devotional Music introducing "SHREE MAATRE NAMAHA" (chanting the sacred text ) with 1008 women all over the city, to worship GODDESS LALITHA DEVI - all known for BLISS
Next, to the word of God, the Noble art of music is the greatest treasure in this world!
So hurry up, for the Devotional Music gathering at the most known venue in Hyderabad "Grand Lawn-JALAVIHAR"
All the super women around, this is the time for spirituality and devotion.
And for the utmost music lovers, with a ting of Western classical and the Indian devotion, this is the gathering for the expression of music from the heart!
Pooja kit will be provided at the venue for participants only
Pooja Kit details :
Kumkum / kumkuma
Haldhi /pasupu
idol of Lalitha Devi
Audio CD -Sree Maathrae Namaha – album songs loaded
Naivadhyam
Idol Aasanam
Flowers
Lalitha Sahasranamam printed-book
Note*: Participants can collect their pooja kit at the venue 30-minutes before.
After the pooja completion, participants are requested to take the kits along with them.
(Terms and conditions)
The participant should arrive 1 hr before at the venue.Dress Code: Yellow or Red Saree for participants
Dress Code: Yellow or Red Saree for participants
The kit will be provided with required items.
Invitee should show the invitation at the venue to collect the kit.
For any extra entry, prior intimation is required.
Only one participant will be allowed to perform pooja on this registration.
Other than participants, entry fee of 250 /- to be paid at the Venue (Allowed on prior intimation only)
Venue: Grand Lawn - Jalavihar
Valet parking accessible at the venue (Parking charge excluded)