Description
Amazing coupon discounts – On the occasion of Ramoji Film City Partnering with Hyderabad Events
The both legendries and market leaders of Hyderabad have now partnered for more business acumen and also entertain the residence and locales of Hyderabad. Hyderabad Events on one side is a #1 ranked online platform for all the events and fashion industry and its people in and around Hyderabad. On the other side, Ramoji Film City is the largest Film City in the world.
A glimpse about Ramoji Film City:
One of the largest film studios in the world, Ramoji Film City Hyderabad is a must visit for everyone who are planning to have a Hyderabad tour. It is the land for evolution of many blockbuster movies in Tollywood, Bollywood, Kollywood and many more. Not just the movie making but also many of the TV shows are being hosted at Ramoji Film City.

​​​​​​​
The 2000 acres Ramoji Film City aims at entertainer their visitors from all the corners of the world. It has plethora of activities to offer for all the ages. Entertainment, cultural, amusements and many more are still surprises the visitors. The place hosts many events of motion pictures in different languages including English, Hindi, Tamil, Marathi, Telugu, Bengali and recently added Assamese.
Ramoji Film City | Freedom Fest 3 Nights 4 Days Package
​​​​​​​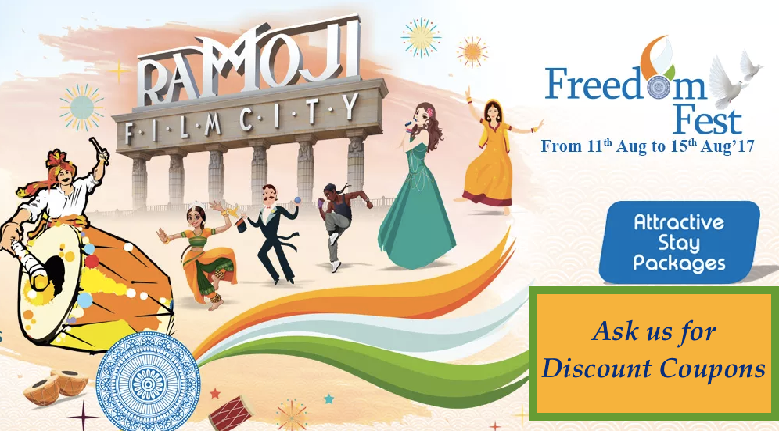 Ramoji Film city has introduced this exclusive package for everyone to plan their long weekend. Rejoice the spirit of Freedom @ Ramoji Film City from 11th Aug – 15th Aug 17. Make this exclusive tour more colorful by being part of the exclusive live shows at Ramoji Film City.
Apart from the day trips, the other top-ups added to this tour package are:
Dhee Jodi Dance Show: Have

great fun with Dhee Jodi Dancers! Get ready for glitz & glamorous performances giving an immense feel of riveting live shows!

Bahubali – Fame Singers:

Enjoy the most amusing songs of the epic grandeur Bahubali Movie sung by Bahubali Singers!

Dhol&Masti of Nasik Dhol :

Enjoy the most popular Nasik Dhol! Each beat of the Dhol mesmerize you with its lively rhythm, tempting you to start pairing up to tap your foot for the beats!

Interactive Close-up magazines

Special Entertainment and many more

​​​​​​​
Enjoy the spectacular trip and make it more memorable and grab the worthful discount coupons for extra saving. Contact us to have any queries our team is here to support you.
​​​​​​​​​​​​​​
Further More Details Please Contact @ 9848557666
Address : Hyderabad Events Industry Pvt Ltd,
3rd Floor, Babukhan Rasheed Plaza,
Opp Brand Factory Road No-36,
Jubilee Hills, Hyderabad,
Telangana-500033