Description
Solving your challenge starts with a conversation!
Maa Events & Entertainment is a renowned Event Planner company in Hyderabad. They are expertized in connecting brands affirmatively with its audience, and are known to be efficient at adding the perfect touch, no matter what the occasion is. They are even a complete wedding planner and execute events professionally with its cultural touch. Since its establishment, Maa Events & Entertainment Company is gratified to have the opportunity to work with large companies, established businesses, charities, individuals and growing micro ventures.
Maa Events & Entertainment is an awarding winning company in Event Planning and Implementation. They designed and brought a collection of visionaries, objectives, strategies, creators and planners together in offering extraordinary events.
Their unique style of thinking meticulously engages both clients and audiences, what so ever their requirements are. They work as extension and in-line with clients PR, marketing and communication teams to design engaging events. As part of integrated marketing mix, events give direct access to the businesses with their audience. It is the ambition to help the customers make the best out of interactions by building a fulfilling and purposeful experience.
With vast years of experience in successful implementation of corporate event planning, Maa Events & Entertainment guarantee that clients get a dedicated professional and experienced team of event organizers who will develop a concept and event plan within the allocated budget and unique creative input. Every time they offer clients a unique and memorable experience. Maa Events & Entertainment team produces a committed delivery in elevating the event to the optimum level as a result of their cutting-edge production values and use of the very latest and best technology.
Their promised prices are unbeatable and are the best; they negotiate on clients behalf for venue, food, accommodation and transport. The client's venue will be transformed for maximum impact inline to meet the expectations and suit the event and the audience.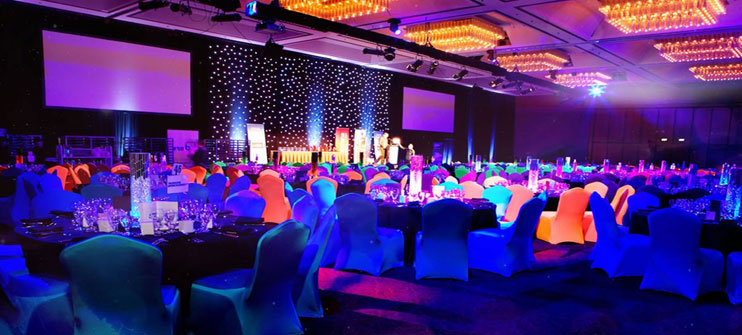 Maa Events & Entertainment team put their efforts in right commitment for conceptualizing an event plan that meets your exact needs. No event is too big or too small for them; they are here to transform your ideas to life. They cover all range of corporate events ranging from Awarding, Ceremonial, New Year parties, Conferences, CSR events, Galas-Parties, Team Building and many more.
Brand experience is travelling at the pace of information which is travelling at the speed of mouse click. Maa Events & Entertainment is specialized in connecting brands and people and deliver powerful bespoken experiences through Customer Engagement activities and interactions. Their excellent brand activation team helps clients in making right impact in building right brand loyalty. As a part of branding they are providing services across Customer Engagement Strategies, Exhibition Stands/experiential corners, Fashion Shows, Product Launches, Roadshows, Sport Events, Store openings, On-street and in-store engagements, PR Stunts, Product Sampling, Data Capture, Promotional staff, Press Launches and many more.
Wedding is once in a life time experience for most of us. It is one of the happiest moments of the life. But it is overwhelmed and nerve-wracking if you are not sure of finding exactly what you want. Maa Events & Entertainment team is the best planners of the wedding. With the wedding management team, one can save your money and time and enjoy the special day with no worries.
​​​​​​​Maa Events & Entertainment team promise that the client's special day will be most magical, modern and affordable. They provide all the services required for the event ranging from Wedding venues and locations, Designs and decors, Entertainment, Photography and Cinematography, Luxury Destination weddings, Wedding Hosts and Hostess, Travel Arrangements, Food and Dinning Arrangements and many more.
So whatever the event is, the first place to approach is Maa Events & Entertainment. All in one place with best affordable budget, exemplifying event planning and execution make your event the best.