Hyderabad Fashion Day 2018
Registrations for Models, Designers, and Stalls
Welcome to the first ever big Fashion & Modelling Event in Hyderabad Presenting by HEIT
Hyderabad Events is proudly launching 300 Models and 80 fashion designers create a new buzz in the Film Industry and Glamour industry. The event is more glamorous with exclusive 30 stalls aiming to entertain the huge crowd of Hyderabad at the event.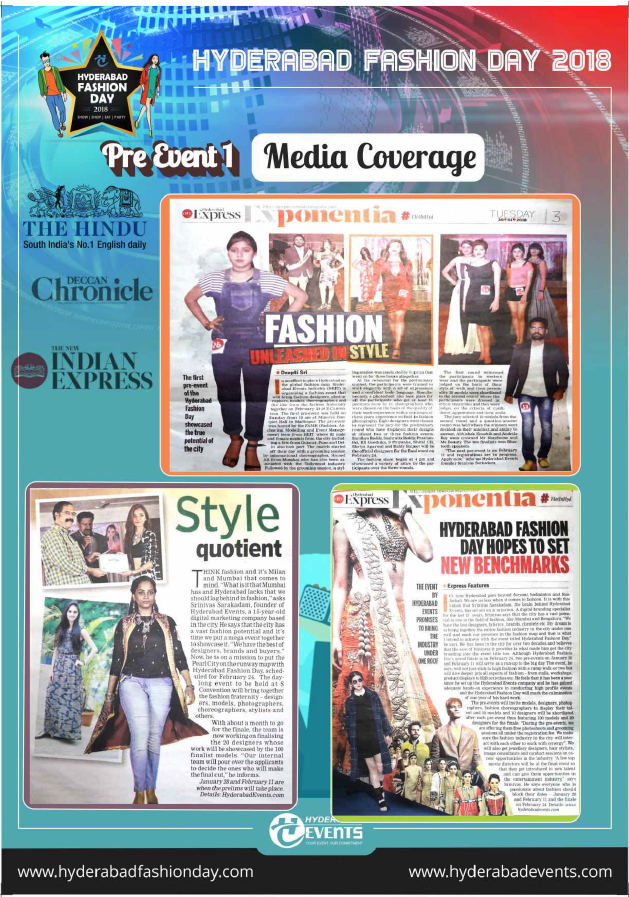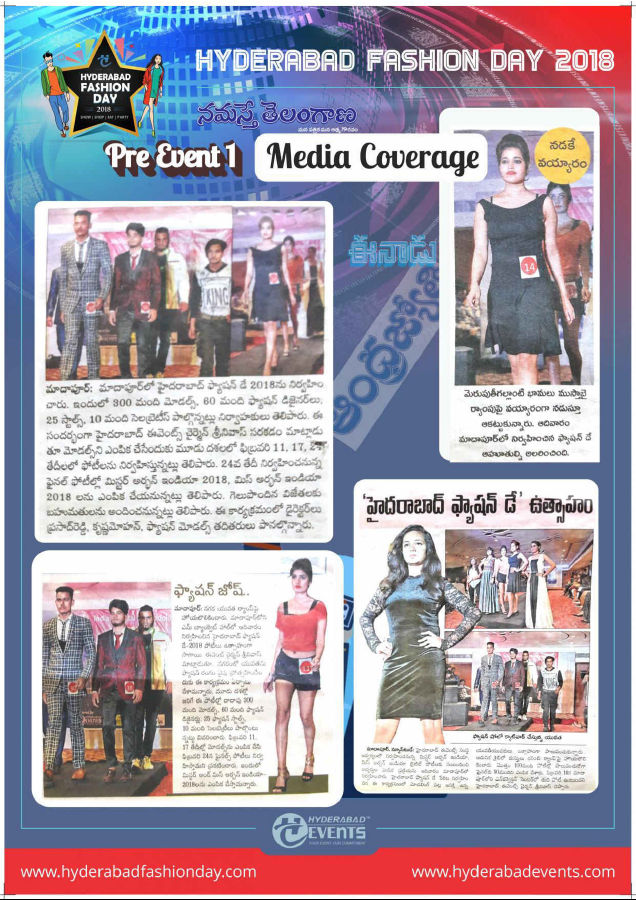 Models
The first ever blockbuster event of Fashion Show in Hyderabad
Are you a desperate Fashion Chic? Then this is for YOU!!
Create a vibe with your elite FASHION. No limit to exhibit your talent - just ramp the show. An exclusive show which not only enlightens your talent but also creates an incredible opportunity in the Film Industry.
Get your dreams into reality – if not NOW then NEVER
Make your participation more vibrant with exclusive opportunity to have a live telecast of your ramp walk, an opportunity to jell with the top film industry celebrities, fun and joy with co-participates and much more following benefits...
High-class lists of benefits for the registered Models are:
Chance to get into the Movie Industry
Media Coverage
Modeling Contract
Photo Shoots
Model Landing Page @ HEIT
Participation Certificate
Mr.& Miss. Hyderabad Title
A never miss golden opportunity to make your stance and win the golden opportunities at the show
Due to high demand for participation, hurry up now to reserve your place.
Registrations are ON!!
Fashion Designers
I don't do fashion – I am fashion
In order to be irreplaceable one must be different and to prove it, one must get a chance. Yes, if you are the one looking for a great opportunity to display your talent, then
Welcome to the first ever largest show of Hyderabad – Hyderabad Fashion Day
A grand launch of 300 models and 60 fashion designers – it is a new beginning for the Glamour Industry in Hyderabad.
A step beyond the Fashion is meant to have participated. A one-stop opportunity to display your exclusive fashion models at your EXCLUSIVE STALLS and demonstrate them to the huge traffic at the event.
Create the buzz with your attractions and make your prospective clients and also opportunity to design for the Film Industry which is unique.
High-class lists of benefits for the registered Fashion Designers are:
Exhibit Your Designs
Grab more Leads, for Your Future assignments
Print and Media Coverage
Live Clients
Individual Designer Landing Page @ HEIT
Best Designer Award
Participation Certificate
Chance as a Costume Designer
Don't be afraid to start over. It's a brand new opportunity to rebuild what you truly want. Limited stalls available due to high demand. Make your booking today.
Hurry up NOW!!
Stalls
Steal your stall - get the elegance of Hyderabad
Create your Brand identity and make your perspective with our exclusive stalls at the venue
Make your presence BIG
We welcome the businesses across Hyderabad from Fashion Institutes, Accessories, Jewelry, Food, Art, Retail, Photo-booth, and Traditional to Trendy clothing and many more categories accepted.
The key benefits for businesses:
Raise your business ROI by increasing brand awareness and create preference
Get your style exhibited to our beloved audience with your tactics
Give a chance to our audience to enjoy your flavour
Create positive PR and raise awareness of the organization as a whole
Build brand positioning through associative imagery
Create internal emotional commitment to the brand and act as corporate hospitality that promotes good relations with clients
Make your business partnership with Hyderabad Events today!!
Buy your space now and make your business revenue and brand identity.
Talk to our exclusive marketing team for more details:
Mr Sai - 9848 557 666
Ms Sunayna - 9885 94 6789
Registrations will happen from the following website